South Peninsula Commercial Fishermen Stand Down During First Salmon Fishery Opening
June 5, 2011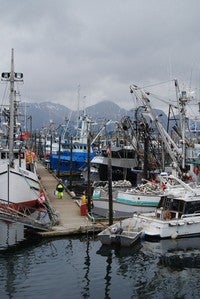 Sand Point, AK – June 5, 2011 – For the second year in a row, the South Peninsula fishing fleet has decided that the seiners should stand down during the first opening of this year's salmon fishery. Last night, the fleet held a meeting in Sand Point, with teleconference sites in False Pass and King Cove. Subsistence fishermen have noted that the chum-to-sockeye ratios are still high. Given this information, the fishermen unanimously decided that the seiners should stand down during this opening, which begins at 6 a.m. Tuesday, June 7th and ends at 10 p.m. on Friday, June 10th.
Fishermen
will meet again at 6:00 p.m. on Wednesday, June 8 to determine whether further measures are advisable.
Salmon fishermen from these villages realize that chum salmon catches during the June fishery are politically dangerous. For decades, Area M fishermen have been plagued by accusations that they are affecting commercial and subsistence chum salmon runs in the A-Y-K (Arctic Yukon Kuskokwim). In 2001, the Alaska Board of Fisheries implemented severe restrictions which nearly bankrupted the entire Area M fishing fleet. In 2004, the Board of Fisheries lifted the restrictions to pre-2001 levels after
finding no evidence that previous chum salmon fishing restrictions made any improvement in chum runs in the A-Y-K.
The South Peninsula fishing fleet hopes that by taking voluntary measures like this purse seine stand down, they can maximize their sockeye harvest without stirring up the controversy that accompanies large chum catches.
"We'll keep monitoring subsistence catches, and look at our options on Wednesday," said Sand Point Mayor and seiner Glen Gardner, Jr.
Visit the link below for background information on this issue.