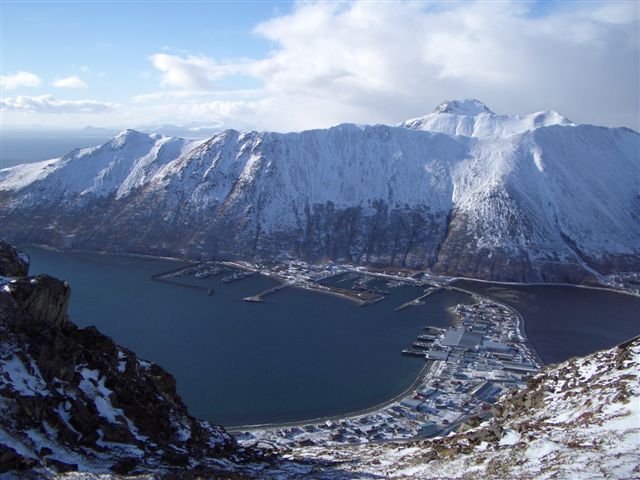 King Cove
The predominantly Aleut fishing community is situated in a narrow valley overshadowed by rugged mountains reaching down to the water's edge. The city is located on the south side of the Alaska Peninsula and in the midst of a storm corridor, which often brings extreme fog and high winds. The city's economy depends on the year-round commercial fishing and seafood processing industries. Peter Pan Seafoods, in King Cove, is one of the largest cannery operations in Alaska. Up to 500 non-residents are brought up to work in the cannery as needed. The community offers a full range of dockage and marine services for commercial fishing, cargo, passenger and recreational vehicles. Large vessels, including the state ferry, cruise ships and cargo vessels can moor at the deep water port.
King Cove Airport Road The road system in King Cove is fairly limited, consisting of a few gravel roads in and out of the community. The King Cove Airport Road runs 4.5 miles to the airport north of town. Visitors are advised to arrange for transportation from the airport before flying to King Cove
King Cove History
The first recorded settler at the cove was a man named Robert King, who lived there in the 1880s. In 1911, Pacific American Fisheries built a large cannery and employed Aleut and other Native peoples, Asian workers, and Scandinavian workers. Many Native people came from the villages of Belkofski, Sanak and False Pass. The community incorporated as a first class city in 1947. Peter Pan Seafoods is the successor to PAF. The cannery has been operating since 1911 (it burned in the 1970s but was immediately rebuilt). It is the largest salmon cannery in North America and also processes crab, bottom fish, herring, and other fish year round. A dozen traditional use hunting and trapping camps have been noted around the shores of Cold Bay and Kinzarof Lagoon, dating from the first half of the twentieth century..
More About King Cove
City of King Cove Site