King Cove Police Department's K9 Receives Bullet and Stab-Protective Vest
June 8, 2015
King Cove, AK – June 8, 2015 — The King Cove Police Department's K9, "Faro", has received a ballistic vest, thanks to a non-profit organization, Vested Interest in K9s, Inc., and Alaska K9 Center. The organizations raised $1,452.00 for K9 Faro's vest. The protective gear arrived on May 14th.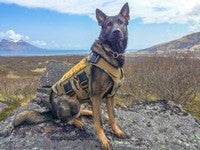 "We were ecstatic when we saw the vest," said King Cove Officer Brad Schneider, Faro's handler. "It was like Christmas Day! We could tell it was very well-made."
Schneider says having a bullet and stab-protective vest to protect Faro is critical. "First and foremost, it's about officer safety," said Schneider. "Faro is an officer of the law, and we need to protect him, just like our human police officers. We get into a lot of bad situations at times during our police work, so this vest will be a huge help."
Currently, Schneider is helping Faro get used to the vest. That includes hiking with the police K9 through difficult terrain while the two-year old German Shepard wears the vest. "This type of training is similar to what we would do if we were tracking a crime suspect," said Schneider. "Faro seems to be doing just fine with it."
Faro and Officer Schneider were trained in narcotics detection and tracking at the Kasseburg Canine Training Center in New Market, Alabama. Both officers received certification through the National Narcotic Detector Dog Association in November 2014. Faro was put into service with the police department on Nov. 28, 2014.
Vested Interest in K9s, Inc. is a 501c (3) charity located in East Taunton, MA whose mission is to provide bullet and stab-protective vests and other assistance to dogs of law enforcement and related agencies throughout the United States. Each vest costs $950.00 and has a 5 year warranty. The nonprofit was established in 2009 to assist law enforcement agencies with this potentially life-saving body armor for their four-legged K9 Officers. Through private and corporate sponsorships,King Cove Police Officer Brad Schneider poses with K9 Officer Faro. The German Shepherd is wearing his new bullet and stab-protective vest. Photo by Officer Steve Cochran.Vested Interest in K9s, Inc. provided over 1402 law enforcement dogs in 49 states with protective vests since 2009 at a cost of over $1.3 million dollars.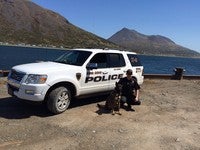 Vested Interest in K9s, Inc. announces their "Hog Wild for K9s" t-shirt is now available online for a $15.00 donation at www.vik9s.org. Proceeds will provide bullet and stab protective vests, for police dogs actively working without the potentially lifesaving equipment.
The organization orders the U.S. made vests exclusively from distributor Regency Police Supply in Hyannis, MA who also does the custom embroidery on the body armor. Vests are manufacturer by Armor Express in Central Lake, MI.
New K9 graduates as well as K9's with expired vests are eligible to participate. The program is open to law enforcement dogs who are US employed, certified and at least 19 months of age.
For more information or to learn about volunteer opportunities, please call 508-824-6978. Tax deductible donations accepted via mail to: Vested Interest in K9s, Inc. P.O. Box 9 East Taunton, MA 02718 or the website: www.vik9s.org.
###
Contacts: Chief Robert Gould King Cove Police Department Office: (907) 497-2210 email: kingcovedps@gmail.com
Laura Tanis
Communications Director, Aleutians East Borough
Office: (907) 274-7579
Cell: (907) 947-5778