Eastern Aleutian Tribes Launches Home Telehealth Monitoring
November 9, 2007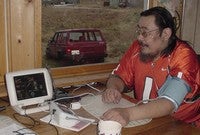 For many residents in remote areas of Alaska, health care appointments can mean long drives, boat rides, or expensive airplane flights. But selected patients in Adak, Akutan, Nelson Lagoon, and St. George are now capable of monitoring aspects of their own health care while staying at home due to new technology that allows their health care providers to view their status on computers at local clinics.
Four Community Health Aides with Eastern Aleutian Tribes recently passed competency exams, enabling them to deploy Home Telehealth Monitoring equipment which measures vital signs, weight, and even sets parameters for abnormal values and monitors trends in their patients' conditions.
Lorraine Loyd of Akutan, Senta Lockett, Nelson Lagoon, Michael Durfee, Adak, and Christopher Diaz, St. George demonstrated their skills on a combined video and audio conference with Joan Price, RN, Director of Clinical Implementation for VitelNet earlier this month.
"In a state where access to care is a major issue, home telehealth monitoring profoundly impacts health care delivery in Alaska," explains Mark Anaruk, project manager for Alaska Federal Health Care Partnership, which has partnered with Eastern Aleutian Tribes in providing VitelNet Home Telehealth Monitors, also known as "Turtles".

With over 70 percent of Alaska inaccessible by road, Anaruk points out that many beneficiaries live where trips to clinics are costly, both in time and money. He believes that home telehealth will revolutionize the way disease management is done in Alaska. Not only do the devices eliminate unnecessary outpatient appointments, but they provide regular monitoring which helps to identify early onsets of acute conditions. In remote areas of Alaska, having a tool to help diagnose a major medical event before it happens can save the person's life and greatly improve their prognosis.
These health aides are to be commended for their willingness to be "change agents" in Alaska's healthcare delivery system, noted Price, who added that they have promoted their own professional growth and improved patient care outcomes.
The CHAs garnered four continuing education units by completing the exams which included skills with the medical devices as well as with the online skills for accurate patient setup, monitoring, reporting, and secure data 'cleansing' when the unit is no longer needed in the home. This last step ensures patient privacy is maintained when the Turtle is placed in another patient's home.