Coast Guard Medevacs King Cove Man with Spinal Injuries
February 20, 2018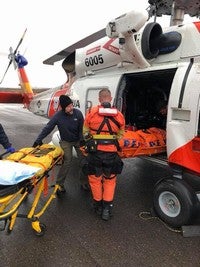 King Cove, AK – On Thursday, Feb. 15, a U.S. Coast Guard MH-60 Jayhawk helicopter crew deployed from Air Station Kodiak to King Cove to evacuate a 58-year-old man who had injured his spine in a fall from a ladder.
Weather conditions in King Cove were such that traditional fixed-wing aircraft could not land at the small community landing strip. At approximately 6 p.m., USCS transferred the patient to Cold Bay – about 25 miles away – where he was later put on a Guardian Flight for transport to the Alaska Native Medical Center in Anchorage.
The community of King Cove has sought secure land access to the all-weather airport in Cold Bay for the past 38 years. The King Cove Native Corp., whose shareholders include members of the federally-recognized Agdaagux and Belkofski tribes, signed a land exchange agreement with the U.S. Department of the Interior in January to establish a road corridor to better protect the health and safety of the residents of King Cove.
Thursday's medevac marks the sixth emergency evacuation of 2018 and the first requiring the involvement of the Coast Guard. Since 2014, there have been a total of 75 medevacs. Eighteen involved the Coast Guard.
For more information about King Cove, visit the Aleutians East Borough website.