Alaska Governor Bill Walker Visits King Cove; Expresses Deeper Appreciation for Road Connection to Nearby Cold Bay Airport
August 4, 2016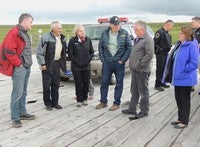 King Cove, AK – Alaska Governor Bill Walker visited King Cove yesterday to see first-hand how critical the need is to link the remote Aleut community to the nearby all-weather airport in Cold Bay. The Governor also visited Cold Bay and the Izembek Refuge to view the area where an 11-mile single-lane gravel road connection would be built if Congress and the President approve a bill recently introduced by Alaska's Congressional Delegation.
"I have met multiple times with U.S. Interior Secretary Sally Jewell, and on this issue, I know we don't agree," Governor Walker said. "I won't give up, though, on pushing for what the residents of King Cove need – a road to access emergency medical care."
During his visit, the governor was able to get up close and personal to the Cold Bay dock where multiple medevacs via boats have been forced to handle medevac patients in the worst Aleutian weather when air travel was grounded due to foul weather in King Cove.
"Governor Walker was amazed that sick, injured and sometimes elderly patients have had to climb up a 20-foot ladder to the dock or be hoisted up in a crab pot where an air medevac plane was waiting," said Aleutians East Borough Mayor Stanley Mack. "In this day and age, it's frightful and unwarranted that patients have to endure these conditions when a road could so easily solve our transportation access problem. The Governor's hometown of Valdez and Delta Junction, where he was raised, both have life-saving roads. That is all we are asking for in King Cove."
For a couple of hours, it appeared that dense fog and low visibility might prevent Governor Walker from flying into King Cove. However, after spendingAlaska Governor Bill Walker and First Lady Donna Walker discuss the King Cove road issue with King Cove Mayor Henry Mack.some time in Cold Bay, the weather improved, allowing the Governor, First Lady Donna Walker and Alaska Department of Natural Resources Commissioner Andy Mack, to land in King Cove.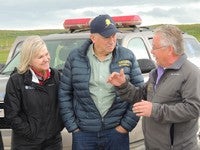 "After the weather delay and visiting our community, Governor Walker understands even more that dense fog, dangerously high winds and fierce Aleutian weather often prevents travel by air or sea as much as one-third of the time," said King Cove Mayor Henry Mack. "When medical emergencies occur, and patients need to be medevaced out to an Anchorage hospital, a simple gravel road would provide a safe, reliable and affordable solution rather than putting our brave Coast Guard personnel at risk. Governor Walker was raised in a small Alaska town, and he has always been a strong advocate for the King Cove road, which we truly appreciate."
"An Alaskan suffering a heart attack should not have to additionally brave the elements just to get to a doctor," Governor Walker said. "After having met community members who have had close calls and having seen for myself the great lengths they have to travel just to be medevaced out, I see the urgent need for a solution."
"We're grateful that the Governor would spend his valuable time in King Cove, Cold Bay and in the Izembek Refuge to get a deeper understanding of the King Cove health and safety issue," said Della Trumble, spokeswoman for the King Cove (Native) Corporation. This road is our only answer. The Governor, the Alaska Congressional Delegation and the legislature have all been so supportive in demonstrating that King Cove lives matter. We're hopeful that soon we can have this critical matter resolved before someone loses a life while trying to access emergency medical assistance."
Since Governor Walker meets with King Cove residents at the community center to discuss the road issue and the state's fiscal crisis.U.S. Interior Secretary Sally Jewell denied the road on Dec. 23, 2013, there have been a total of 46 medevacs. Of those, 17 involved the Coast Guard and 29 were non-Coast Guard medevacs.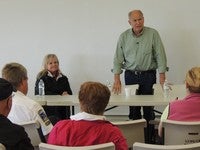 Background:
The people of King Cove have worked for more than three decades to build a life-saving road corridor linking their isolated community to the all-weather Cold Bay Airport, 25 miles away. The small stretch of road (approximately 11 miles) would connect to existing roads in the Izembek National Wildlife Refuge and would provide reliable and safe ground transportation to medevac seriously ill or injured patients when travel by plane or boat is too dangerous due to the area's frequent periods of harsh weather.
In 2009, Congress and the President approved the road and a massive land swap (61,000 acres from the State and the King Cove Corporation) in exchange for a small, 206-acre, single-lane gravel road corridor. However, the deal was blocked by U.S. Interior Secretary Sally Jewell, who issued an order rejecting the road and land exchange just two days before Christmas 2013.

On June 4, 2014, King Cove tribes, the corporation, the city and the Aleutians East Borough (the King Cove Group) sued Secretary Jewell and other federal officials over the rejection of the road. In June 2015, the Senate Appropriations Subcommittee on Interior, Environment and Related Agencies approved legislative language by Sen. Lisa Murkowski, R-Alaska, directing the Interior Department to do an equal-value land transfer to allow the construction of the connector road. Unfortunately, the language was not includedKing Cove residents listen to Governor Walker as he tells them he stands with them on the King Cove road issue.in the final year-end budget deal.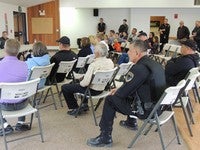 On Sept. 8, 2015, U.S. District Court Judge Holland ruled against the King Cove Group and determined there was no violation of the National Environmental Policy Act (NEPA) or of the Omnibus Public Lands Management Act (OPLMA). The judge acknowledged that Secretary Jewell based her decision solely on the environmental impacts of the road and ignored the public health and safety impacts. That decision is currently under appeal by the State and the King Cove Group before the Ninth Circuit Court of Appeals.
In July 2016, Senators Lisa Murkowski, Dan Sullivan and Congressman Don Young introduced identical bills (S. 3204 and H.R. 5777) in both chambers of Congress which mandates an equal value land transfer in exchange for construction of a short, single-lane, non-commercial road linking remote King Cove to the nearby all-weather Cold Bay airport.
For more information, visit http://www.aleutianseast.org/
Laura Tanis
Communications Director, Aleutians East Borough